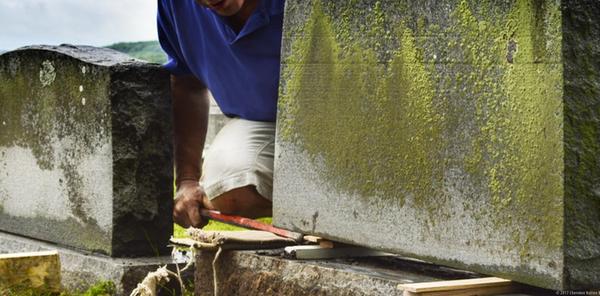 Gravestone Conservation Workshops
On May 2-3, 2019, Preservation Oklahoma and Cherokee Nation Cultural Tourism will host a two-day workshop at the Tahlequah Public Cemetery. The workshops will take place from 9am to 4pm each day. The cost is $50 for both days and that includes lunch and materials. Participants may attend one or both days, but space is limited. This workshop is possible due to the generous support of the Cherokee Nation.
Dr. Appell will offer a similar, one-day workshop at the Oaklawn Cemetery in Tulsa, Oklahoma the following day, May 4, 9am to 4pm, including a light lunch. Tickets for the one-day event will be $35.
Jonathan Appell, a member of the Preservation Trades Network, will lead hands-on, interactive training for participants, covering topics including how to re-set stones, repair to fragmented stones, appropriate repair materials, use of infill material, and methods for re-pointing and cleaning masonry.
Mr. Appell is a professional gravestone and masonry conservation specialist with expertise in cemetery preservation planning. He has performed gravestone preservation and planning projects on many historically significant cemeteries throughout the United States, including Congressional Cemetery in Washington, DC; The Granary in Boston, MA; Sleepy Hollow Cemetery in Tarrytown, NY; The First Presbyterian Church Cemetery in Greensboro, NC; and The New Haven Crypt in New Haven, CT.
The Tulsa workshop has been financed in part with federal funds from the National Park Service, U.S. Department of the Interior. However, the contents and opinions do not necessarily reflect the views or policies of the Department of the Interior, nor does the mention of trade names or commercial products constitute endorsement or recommendation by the Department of the Interior.